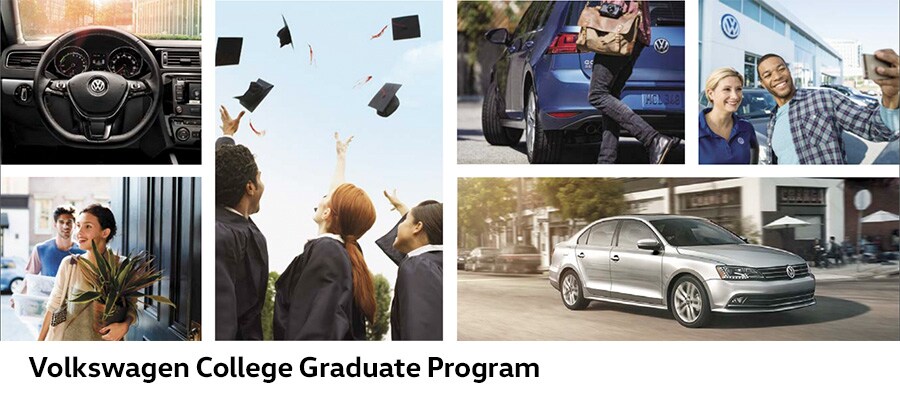 Graduation is already paying off.




Through the Volkswagen College Graduate Program*, qualified recent graduates can get a $500 Contract Bonus** when purchasing or leasing a new, unused Volkswagen vehicle through Volkswagen Credit.




Program Highlights
Up to $500 Contract Bonus

if you lease, there's no security deposit required.

Competitive rates even if you have no credit. 

Credit history is not required, but if you have existing credit, it must be in good standing. 
No co-signer required.
You've just finished four years (more or less) of hard work. You deserve to continue your journey in a VW.
---

Get Started
To get started, visit your local Volkswagen dealer to apply. You'll need to meet the following requirements*:
You graduated in the past 24 months or will graduate in the next 6 months from an accredited US or Canadian College
You have a full-time (permanent) job or have a written commitment from your future employer.
You have received credit approval from Volkswagen Credit
When you visit your dealer you'll need to provide:
A copy of your degree or transcript and contact information for your college or university.
A copy of proof of income and full-time (permanent) employment as well as a name and phone number for a contact in human resources or payroll.
Contact information for two (2) personal references. One must be a relative.
Ask your Tom Bush Volkswagen for full details.


---

Make the choice that is right for you.
Buy your new VW
Make it yours and you won't pay for mileage or excess wear and use.
Lease your new VW
Leasing may mean you can drive a new VW model more often and possibly make lower monthly payments.
Driver's Option
It's like buying, but with an option to turn in your vehicle (at contract end) if you choose.