Built for the family that's going places.
The market for a family sedan has many choices available. Virtually every major car company produces a sedan in this class. The 2015 Volkswagen Passat more than measures up to the competition. The Passat offers style, handling and performance like no other. It's German engineering, family-style.

2015 Volkswagen Passat vs Leading Competitors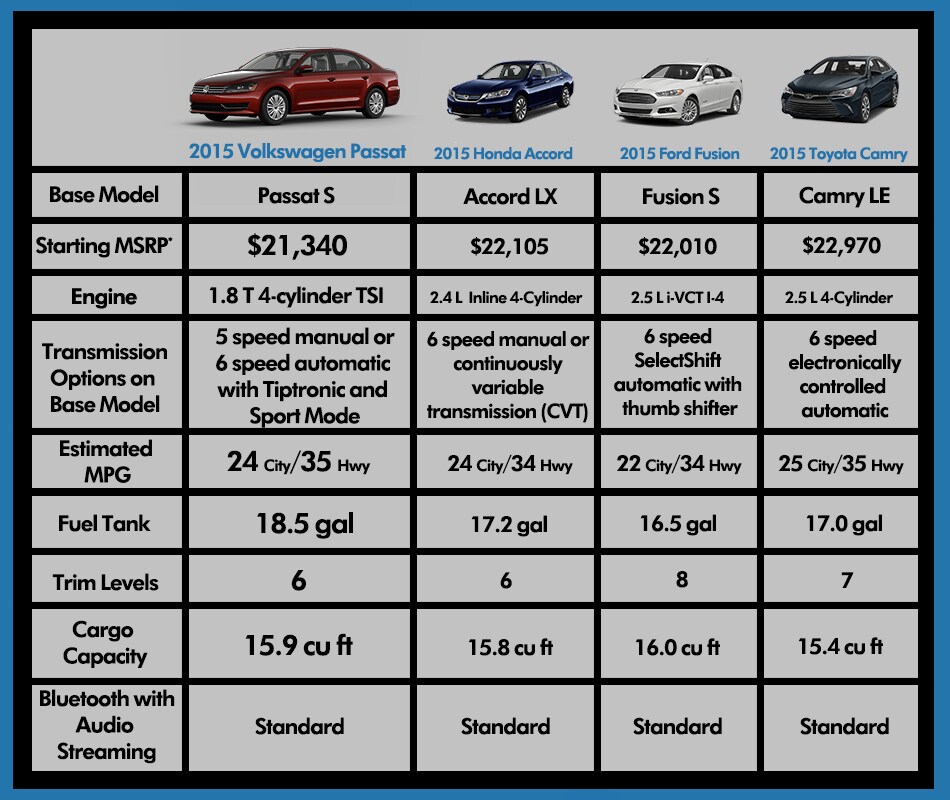 Point A. Point B. All the performance in between.

From pricing to horsepower, torque and fuel efficiency, the 2015 Volkswagen Passat stands out in its impressive German-tuned driving dynamics. The Passat also has an upgraded 1.8 L turbocharged engine, available 280-hp V6, or 44 hwy mpg TDI® Clean Diesel.


Loaded with family goodness.

Loved by the whole family, the 2015 Volkswagen Passat has lots of premium features to make everyone happy. And with the best legroom in its class, there's always plenty of room to grow.

No-charge scheduled maintenance
Best-in-class rear legroom
Automatic headlights
Bluetooth® with audio streaming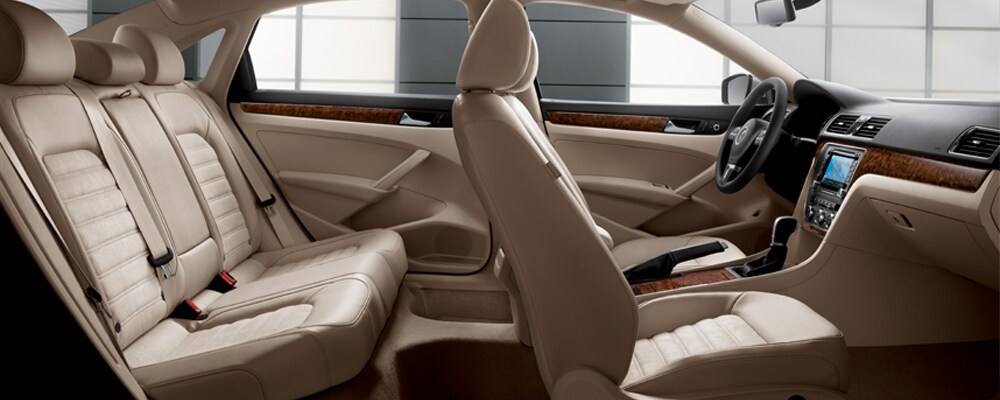 Make an Inquiry
Hours
Monday

7:00 AM - 8:00 PM

Tuesday

7:00 AM - 8:00 PM

Wednesday

7:00 AM - 8:00 PM

Thursday

7:00 AM - 8:00 PM

Friday

7:00 AM - 8:00 PM

Saturday

8:00 AM - 7:00 PM

Sunday

Closed
What family isn't thinking about safety?

When you've got a family, you've got safety on the brain. The Passat is designed with the customer's safety in mind and provides you with an impressive lineup of safety features. With a comprehensive airbag system, 4-wheel ABS, Intelligent Crash Response System, Advanced Safety Cage, and Electronic Stability Control, the Passat provides peace of mind for you and your loved ones no matter where your adventures take you.

The Passat was also chosen as a "2015 Top Safety Pick" by the Insurance Institute for Highway Safety. The Passat safety features are comprehensive and highly reviewed. So when you're driving a Passat, you can breathe a little easier.


Learn More. Take a Test Drive.

Tom Bush VW believes that the Passat offers features, performance, safety, and a price that put the sedan in a class by itself. The choice is clear, so don't wait. Contact us now to learn more and to schedule your 2015 Volkswagen Passat test drive today.